Studies show that many people are reducing the amount of alcohol they drink and are embracing less potent options. Between trends like #DryJanuary and younger consumers who've become "sober curious," a wave of mindful drinking is leading to a worldwide shift in consumer trends in the beverage industry. The reasoning often centers around the desire to be part of the party without compromising health. For those who are not swearing off alcohol completely, mindful drinking is about feeling better and staying present in celebratory moments.
Yet, a special occasion often calls for a celebratory beverage. If people are drinking less, what does this mean when holidays, birthdays and anniversaries roll around? An interesting celebration beverage for a special occasion can make all the difference, and that is why Martinelli's added Sparkling Blush to our family of Gold Medal sparkling ciders.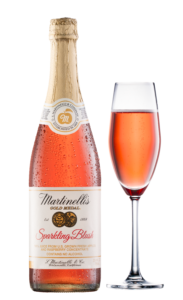 Depending on how you choose to celebrate, Martinelli's Sparkling Blush can be a fun alcohol-free alternative, or used as a mixer with spirits, prosecco and champagne.   Its crisp and refreshing taste also makes it perfect for Spring and Summer gatherings. Made from US grown fresh apples, Sparkling Blush has a splash of raspberry juice to give it a pink color and crisp taste. This beautiful rose' colored bubbly can be enjoyed on its own or mixed into a delicious mocktail or cocktail.
Because it's from Martinelli's, consumers know it will be delicious and without added sugar or chemical preservatives.  Its pink color and clear glass bottle make it a new way to celebrate with Martinelli's for non-holiday occasions like prom parties, graduations, baby showers, weddings and summer gatherings. Successful party planners know that it's important to be "inclusive" and to have beverage options for people at the party who are seeking something alcohol free but still fun and special.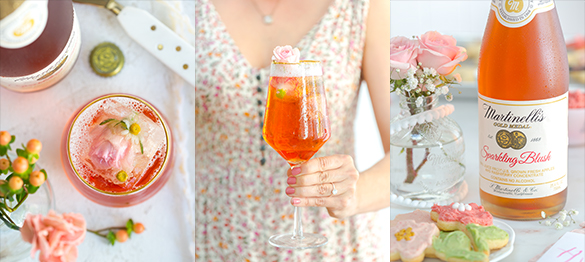 No matter your alcohol preferences, we know you'll love this new addition to the Gold Medal family. You can find Sparkling Blush at most major retailers across the country as well as our Company Store and Tasting Room in Watsonville, California.  Whether you are celebrating getting together with family, friends, or that special someone, Martinelli's is excited to be a part of the celebration!