Watsonville, CA, June 19, 2019 – This summer make Martinelli's Company Store and Tasting Room your favorite new road trip destination. Located in Watsonville, California, along the picturesque Monterey Bay coastal area between Carmel and Santa Cruz, this is a place you need to see in person. Family owned and operated, S. Martinelli & Company has been producing its premium quality sparkling cider and apple juice from US grown fresh apples in this small town for over 150 years. Four generations of Martinelli's family members have partnered with a tight-knit community of employees and apple farmers to build one of the most iconic brands in the world. Martinelli's is available in 43 countries and is regarded by many as the "gold standard" of taste and quality.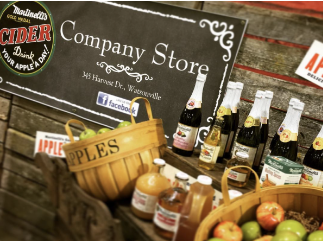 Martinelli's Company Store and Tasting Room opened in 2015 and is housed in the heart of the company's facilities. On your way to the store you may pass truckloads of locally grown fresh apples on their way to be sorted and fresh-pressed into one of more than 50 varieties of juices and ciders processed at the plant. Or, you may see fourth generation family member and CEO, John Martinelli catching up with one of the many local farmers who have been growing apples for Martinelli's for decades.
Once inside the Company Store you'll take a step back in time looking at antique bottles and machinery that was used to make Martinelli's famous apple juice and sparkling ciders many years ago. However, you'll most likely be consumed by the sweet smell of Martinelli's Tasting Bar. With a variety of delicious products available to sample, you'll be tempted to try them all…and you can!  Martinelli's Tasting Room is open to the public with free tastings every day.
Once your thirst is quenched, you'll want to check out all the Martinelli's-branded merchandise that's for sale, including hats, shirts, jackets and of course cases of its award-winning sparkling ciders and juices.
The store is located at 345 Harvest Drive, Watsonville, CA , 95076.
It's open Monday-Friday from 9:00am-5:00pm and on Saturdays from 10:00am-2:00pm.  It is closed on Sundays.
Please call 831-768-3938 for holiday hours.
For more information visit martinellis.com/about/facilities.