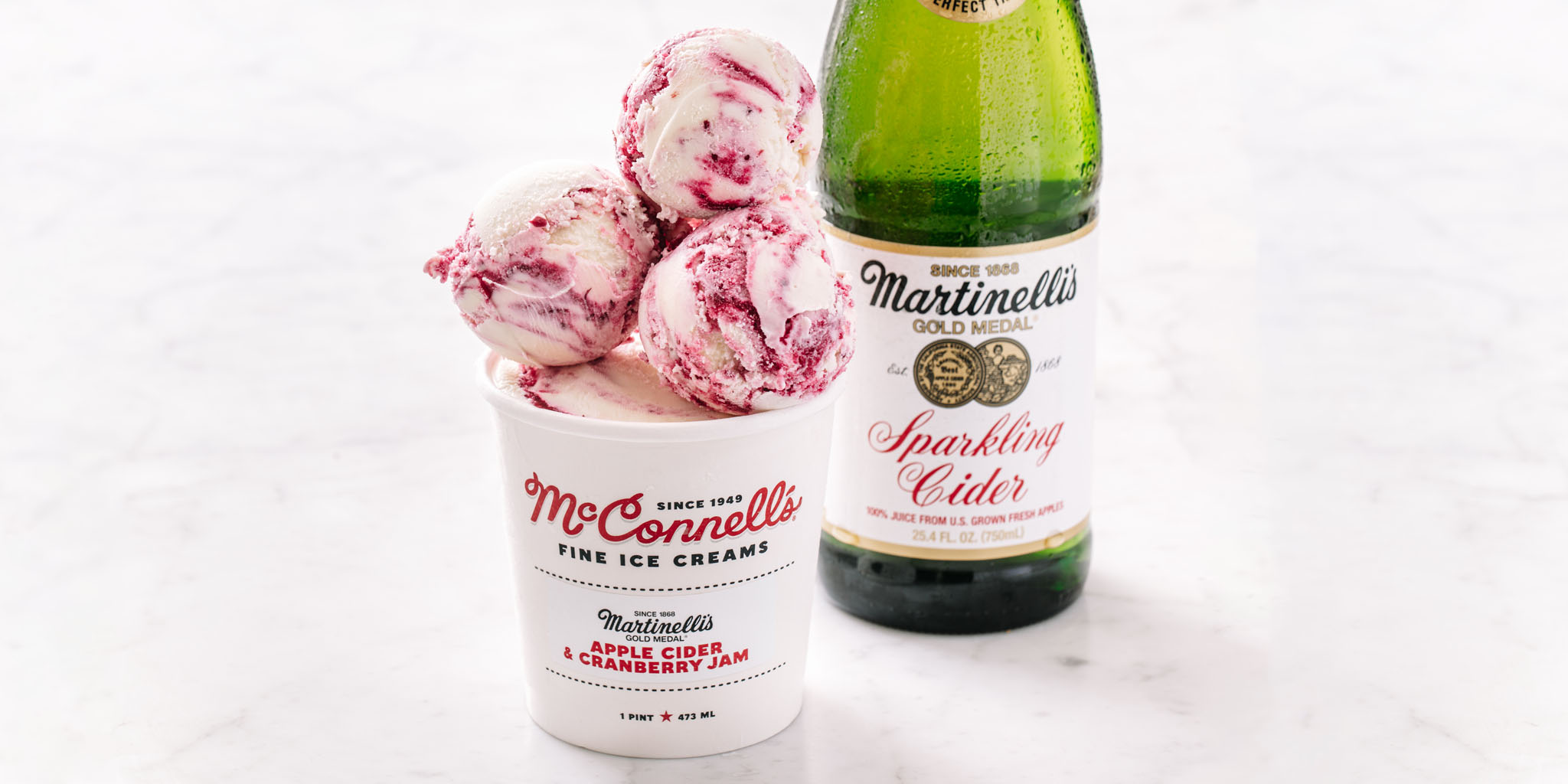 Martinelli's Sparkling Cider and McConnell's Fine Ice Creams Mark the Return of the Holidays with Martinelli's Apple Cider & Cranberry Jam Ice Cream
Watsonville, Calif., November 3, 2023 – For the second year in a row, S. Martinelli & Co. has partnered with McConnell's Fine Ice Creams to build upon a new Central Coast-style Thanksgiving tradition that unites two of the season's most evocative flavors: crisp apples and sweet cranberry. The iconic California companies have created Martinelli's Apple Cider & Cranberry Jam, featuring Martinelli's Sparkling Apple Cider combined with McConnell's sweet-cream ice cream and house-made tart cranberry jam for the ultimate Thanksgiving-season dessert.
"For 155 years, Martinelli's has been a treasured holiday favorite for so many families," explained Gun Ruder, President & CEO, S. Martinelli & Co. "When we were looking for the perfect partner to create a new holiday tradition together, one that matched our commitment to family, quality and craftsmanship, we looked no further than McConnell's. This Martinelli's Apple Cider & Cranberry Jam flavor successfully captures the essence of Thanksgiving in a single scoop," Ruder adds.
Pints of Apple Cider & Cranberry Jam will be available for $12.00 each through McConnell's online store beginning November 1st, in its California Scoop Shops and at Martinelli's Company Store in Watsonville, CA starting November 3rd, while supplies last.
About McConnell's Fine Ice Creams
McConnell's Fine Ice Creams is a 70-year-old, third generation, family-run business focusing on simple ingredients to create rich, pure ice creams. All of the products (cream, mix-ins, etc.) are made in-house with a focus on premium ingredients and sustainability. McConnell's Ice Creams are made from scratch using pasteurized local, grass-grazed milk and cream, and house-made inclusions in the most responsible and sustainable way possible.
About S. Martinelli & Company
Since 1868, S. Martinelli & Company has been bottling joy with fresh apples, a pioneering spirit and a love for what they do. The family-owned business, based in Watsonville, California, is the country's leading producer of Gold Medal premium-quality sparkling cider and apple juice. Martinelli's products are 100% juice, made from fresh  U.S.-grown apples and contain no added sweeteners or chemical preservatives. Its little apple-shaped glass and champagne style bottles are iconic hallmarks of the brand. For more information and recipes, please visit www.martinellis.com.
Media Contact:
Patti Costantino
patti@psc-pr.com