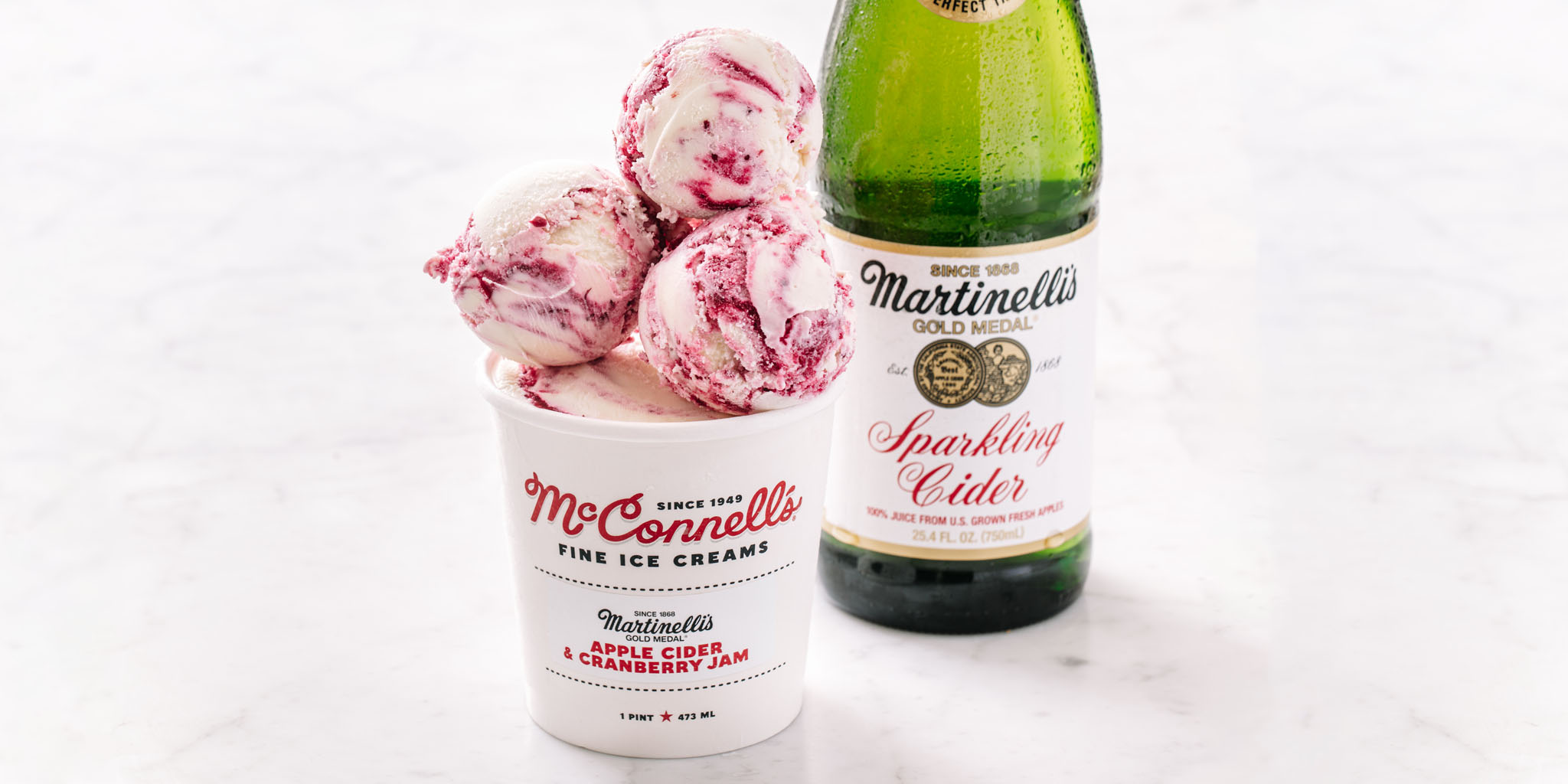 The holiday-inspired Martinelli's Apple Cider & Cranberry Jam Ice Cream will be available beginning November 4, 2022 through McConnell's.
Watsonville, Calif., November 4, 2022 – S. Martinelli & Co. has partnered with California-based McConnell's Fine Ice Creams to launch a Central Coast Thanksgiving celebration. Built on over 200 years of combined California heritage, the holiday-inspired flavor, Apple Cider & Cranberry Jam, features Martinelli's crisp, sweet, effervescent, delicious Sparkling Apple Cider infused into McConnell's sweet cream ice cream, backed by ribbons and ribbons of McConnell's house-made tart cranberry jam to create the ultimate Thanksgiving Day dessert.
"Martinelli's has been a holiday favorite for generations," explained Gun Ruder, President & CEO, S. Martinelli & Co. "We wanted to make this season even more memorable by creating a uniquely flavored limited-edition ice cream and California-based McConnell's was the perfect partner. They've successfully captured the essence of Thanksgiving in one scoop of ice cream."
Martinelli's and McConnell's, which have been in business a combined 220+ years, have always been committed to using the highest quality ingredients.
Apple Cider and Cranberry Jam will be sold in pints for $12 through McConnell's online store beginning November 4, in its California Scoop Shops and at select retailers nationwide while supplies last.
About McConnell's Fine Ice Creams
McConnell's Fine Ice Creams is a 70-year-old, third generation, family-run business focusing on simple ingredients to create rich, pure ice creams. All of the products (cream, mix-ins, etc.) are made in-house with a focus on premium ingredients and sustainability. McConnell's Ice Creams are made from scratch using pasteurized local, grass-grazed milk and cream, and house-made inclusions in the most responsible and sustainable way possible.
About S. Martinelli & Company
S. Martinelli & Company is a multi-generational family held business that has been producing Gold Medal premium quality sparkling cider and apple juice for over 150 years in Watsonville, Calif. Martinelli's products are 100% juice, made from U.S. grown fresh apples and contain no added sweeteners or chemical preservatives. Its apple-shaped glass and champagne style bottles are iconic hallmarks of the brand.For more information visit martinellis.com.
###